About Cary Camp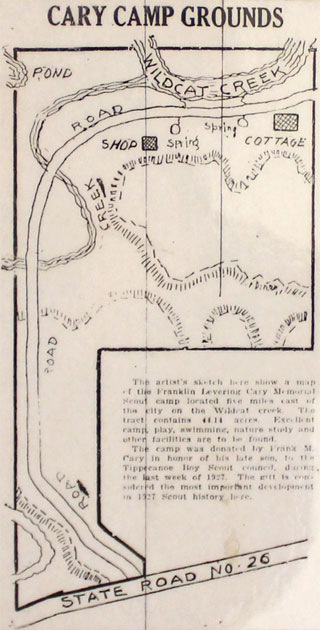 The original Cary Camp, about a third of the land comprising the current Cary Camp, was leased in April of 1927 for a camp site. On behalf of the "Tippecanoe Council", Mr. Frank M. Cary, a Lafayette manufacturer and philanthropist, purchased the 44.14 acres under lease on December 29, 1927, for a cost of $4414.00.
He promptly deeded the tract over to the Boy Scouts of America, "…in hope that the present and future generations of boys will, by use of said real estate as Boy Scouts, become useful and honored citizens…". The deed required that the camp be forever known as Franklin Levering Cary Camp in memory of Mr. Cary's only son.
The original Cary Camp was the area now known as the Indian Village campsite, with some buildings along the Wildcat Creek. None of the original camp buildings remain, but you can still see their foundations along the Wildcat Creek trail in the camp. The four current primary campsites, the swimming pool, and the Newell Shelter are all within the boundaries of the original tract. McAllister Scouting Center, Tecumseh Lodge, and most of the other main camp buildings are in the area occupied by the text in the sketch, just outside the original camp boundary. Shawnee Cabin is on the original land, although it was built after the expansion.
Today, Franklin L. Cary Camp has more than 125 beautiful wooded acres bordering on the Wildcat Creek. Cary Camp teems with all kinds of wildlife including birds and animals. It also has an excellent canoeing and fishing area on the Wildcat Creek. The swimming pool, cabins and dining hall are available to all kinds of youth groups virtually year round with the exception of the time that Camp Cary is devoted to Scout camping during the summer months.