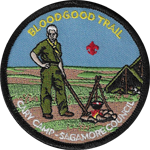 Cary Camp - Bloodgood Trail
The Bloodgood Trail is the longest hiking trail at Cary Camp. It is named after Donald A. Bloodgood, a longtime Scout and Scouter in Sagamore Council, and in one of its predecessors, Harrison Trails Council. For more details, including a map of the trail, please read the Bloodgood Trail brochure.
Scout who hike the entire trail are entitled to purchase and wear the Bloodgood Trail patch, shown to the right. This patch is available at the Cary Camp Trading Post.