Facilities - Chapel
Cary Camp has an outdoor chapel, the Lowell Joseph Highley Memorial Chapel, located in the center of the camp. The chapel is equipped with electricity, and seats 100 people.
The chapel is available for public and outside use, as well as being used for scout summer camps. There is no rental fee for the chapel, although there is still a per-person facility usage fee. To use the chapel, please submit a Scout Usage Form (for Boy Scout groups) or a Non-Scout Usage Form (for others) to the Council Service Center. Non-Scout groups must also submit a Hold-Harmless Agreement and show proof of liability insurance. These forms are available on the Permits & Forms page.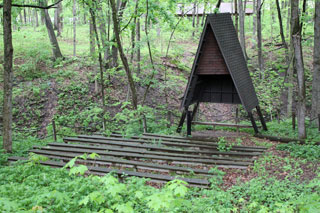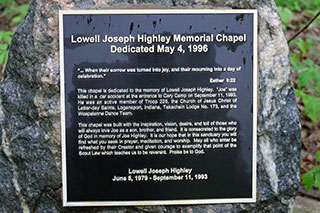 The dedication plaque reads:
Lowell Joseph Highley Memorial Chapel
Dedicated May 4, 1996
"… When their sorrow was turned into joy, and their mourning into a day of celebration." - Esther 9:22
This chapel is dedicated to the memory of Lowell Joseph Highley. "Joe" was killed in a car accident at the entrance to Cary Camp on September 11, 1993. He was an active member of Troop 226, the Church of Jesus Christ of Latter-Day Saints, Logansport, Indiana, Takachsin Lodge No 173, and the Woapalanne Dance Team.
This chapel was built with the inspiration, vision, desire, and toil of those who will always love Joe as a son, brother, and friend. It is consecrated to the glory of God in memory of Joe Highley. It is our hope that in this sanctuary you will find what you seek in prayer, meditation, and worship. May all who enter be refreshed by their Creator and be given courage to exemplify that point of the Scout Law which teaches us to be reverent. Praise be to God.
Lowell Joseph Highley
June 8, 1979 - September 11, 1993