Facilities - Recreational Facilites and Equipment
Cary Camp has a wide variety of recretional facilities, suitable for people of all ages. These include:
A swimming pool, including a showerhouse with separate areas for men, women, and boys.
A rifle range (.22 long maximum), a BB-gun range, and an archery range. These can be rented with or without equipment.
A bouldering wall - a horizontal wall studded with grips and handholds, so that younger boys can practice the skills of mountain climbing while staying close to the ground.

"Mount Puff", our 22-foot inflatable climbing mountain, for older boys.
A basketball court.
A "human foosball" court. You know the tabletop game with the little plastic soccer players on rods? We do that with people! (Although we don't run rods through them.)
A sports field, which can be set up for various games, or can be used for an obstacle course. There is also an obstacle course in the woods by the field.
Miles of hiking trails - in the woods, around the fields, and along the creek.
Canoes (with lifejackets and paddles), and a trailer to haul them if need be.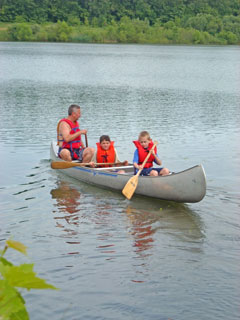 All of these facilities are available for rental, as well as being used for scout summer camps. To rent one, submit a Scout Usage Form (for Boy Scout groups) or a Non-Scout Usage Form (for others) to the Council Service Center. Non-Scout groups must also submit a Hold-Harmless Agreement and show proof of liability insurance. These forms are available on the Permits & Forms page.